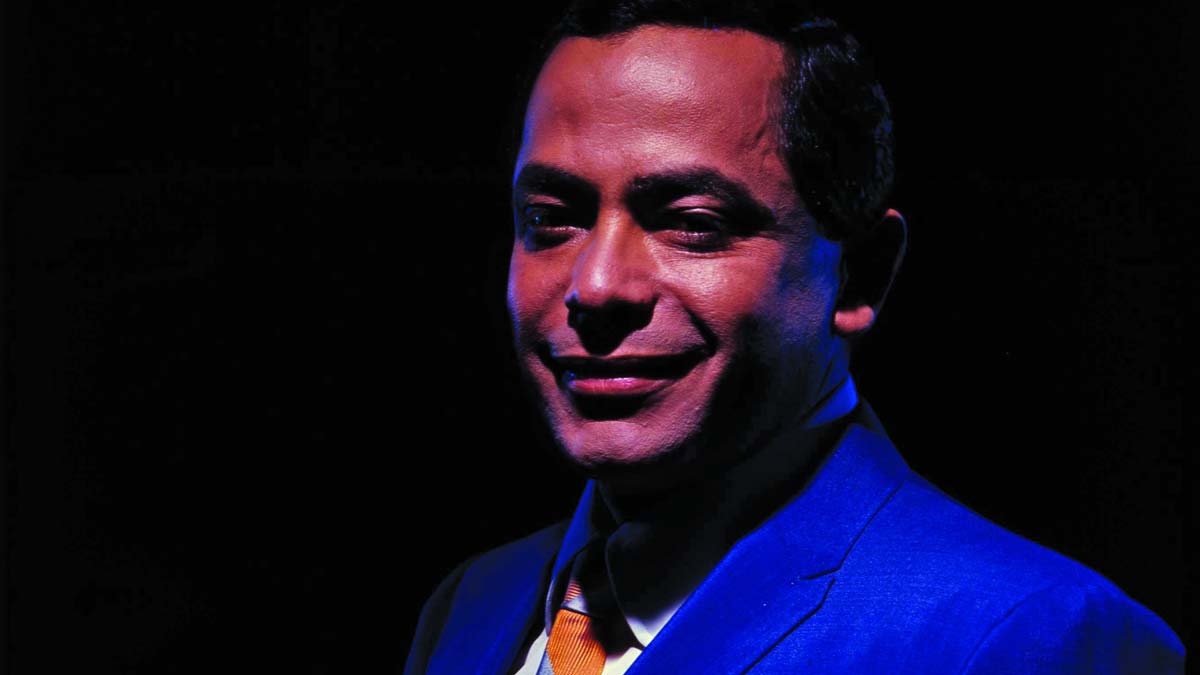 You won't find velvety boleros like "Inolvidable" or "Llanto de Luna" in this collection. Focusing on the years that he spent recording for the Tico label, this entry in the La Herencia series presents a different side of Tito Rodríguez, concentrating on more upbeat song formats. The Puerto Rican crooner's talent for performing spirited mambos and soulful cha cha chas was remarkable indeed.
Rodríguez passed away in 1973, leaving behind a stunning body of work which, in subsequent decades, has been distorted by the subjective appreciation of a few fans. These days, he is remembered almost solely for his bolero recordings. And yet, like foremost Tito Rodríguez aficionado Gilberto Santa Rosa has often remarked, he was a rare breed of Afro-Cuban performer: equally comfortable with romantic torch songs and the funky stuff that made dancers at the Palladium club shake their hips with abandon.
El Inolvidable's approach to tropical music was eclectic: even though he possessed one of the most distinct voices in the entire genre, he also recorded albums made up entirely of instrumental tracks. A talented composer and musician who studied vibes and percussion at the prestigious Juilliard School of Music, he spent his entire career experimenting with a variety of settings and styles.
One look at the tracks in this collection is enough to give you an idea of the singer's stylistic breadth. There's a crisp, fast paced version of the classic bolero "Piel Canela," and an unbelievably hip "Voy Pa Las Villas," performed by the La Playa Sextet with the cool electric guitar of Puerto Rican player Payo Alicea in lieu of the expected piano tumbao.
Could the Latin music business produce a track like "La Chancletera" in this day and age? The song, about a woman who starts dancing the guapachá in her slippers as soon as she wakes up and turns the radio on, has an endearing air of old fashioned sweetness about it. It speaks of a more innocent time. Chancletea, chinita, mi guapachá, croons Rodríguez, and his voice sounds particularly elegant against the subtle backing of his swinging big band.
Pablo Rodríguez Lozada was born on January 4, 1923, in Santurce, Puerto Rico. His parents were of Cuban and Dominican origin. Tito was already making music in la isla del encanto – singing with outfit Cuarteto Mayarí – when, after both of his parents had passed away, he decided to follow on the footsteps of his brother Johnny and move to New York. There, he spent most of the '40s working with such legendary Afro-Caribbean artists as Machito, Chano Pozo, Xavier Cugat, Arsenio Rodríguez and Puerto Rican pianist Noro Morales.
Around 1947, Rodríguez began leading his own groups. His association with the Tico label was relatively short. He recorded for the company between 1949 and 1953, and then from 1956 to 1958. The output included several 78 rpm recordings, as well as 10-inch albums of mambos and a number of 12-inch records. This material would be recycled endlessly by Tico on future compilations such as Nostalgia Con Tito Rodríguez and Uptempo.
During the '50s, he recorded a number of sessions for the RCA label (home of his notorious Palladium rival, "the other Tito," Tito Puente). But the biggest success of his career happened through his association with the United Artists label in the '60s, which yielded hits such as "Cara de Payaso," "Cuándo, Cuándo" and the seminal rendition of "Inolvidable." He never stopped expanding his stylistic repertoire, recording in the merengue, bossa nova, samba and boogaloo genres.
In 1966, the singer decided to return to Puerto Rico, where he exploited his "elegant crooner" persona to maximum effect on the popular television program El Show de Tito Rodríguez. The show (excerpts of which are currently available on a DVD release sponsored by Santa Rosa himself) found the crooner addressing the audience in his gentlemanly tone, impeccably dressed and surrounded by a coterie of Puerto Rican beauties. The celebrity guest list included Shirley Bassey and Tony Bennett.
In 1971, Rodríguez expanded his musical empire by creating his own label, TR Records. He worked with the charanga ensemble Típica Novel, and with the orchestra of talented arranger Louie Ramírez. Far from being a selfish artist, he was generous with the musicians around him. In 1964, for instance, he backed the lesser known but unusually gifted Vitín Avilés (a vocalist who was very similar to him in style) on the Musicor release Tito Rodríguez Presenta: Vitín Avilés.
By 1970, El Inolvidable had been diagnosed with leukemia. His last concert was a New York performance with the Machito orchestra on February 2, 1973. 26 days later, he passed away in Florida, in the arms of his wife. His body was transported to Puerto Rico, so that he could be greeted for a last time by his boricua fans. He was 50 years old.
In retrospect, we can only thank Tito Rodríguez for his relentless work ethics. His discography is so prolific, that it belies the fact that he left this world at such a young age.
In the decades since his death, plenty of Afro-Caribbean artists, from Roberto Roena and the Fania All Stars to Cheo Feliciano and Gilberto Santa Rosa have paid tribute to one of the most charismatic figures ever to grace the landscape of Latin music. Hopefully, the 16 tracks on this collection will inspire listeners to continue exploring his prodigious body of work.
Written by Ernesto Lechner