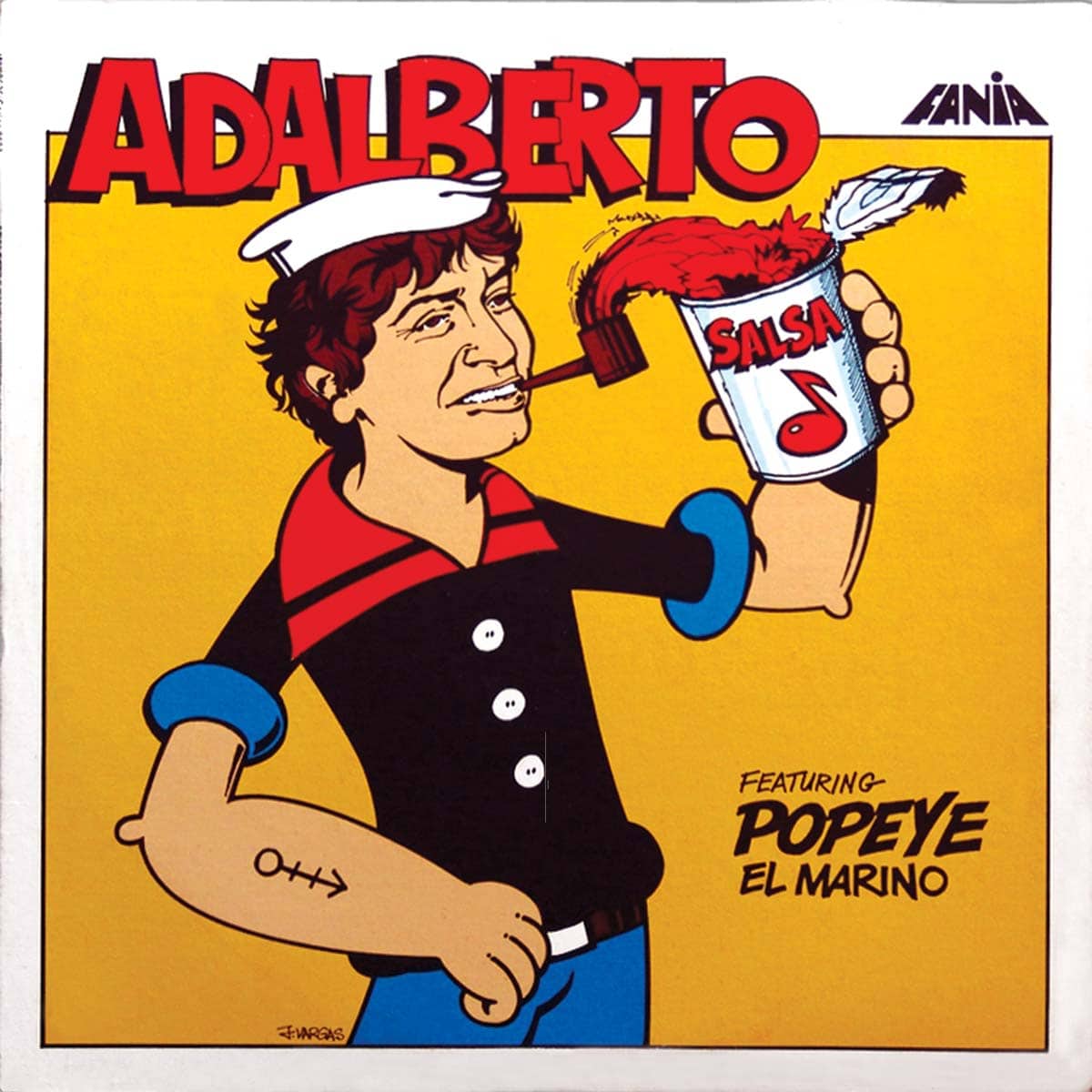 ADALBERTO FEATURING POPEYE EL MARINO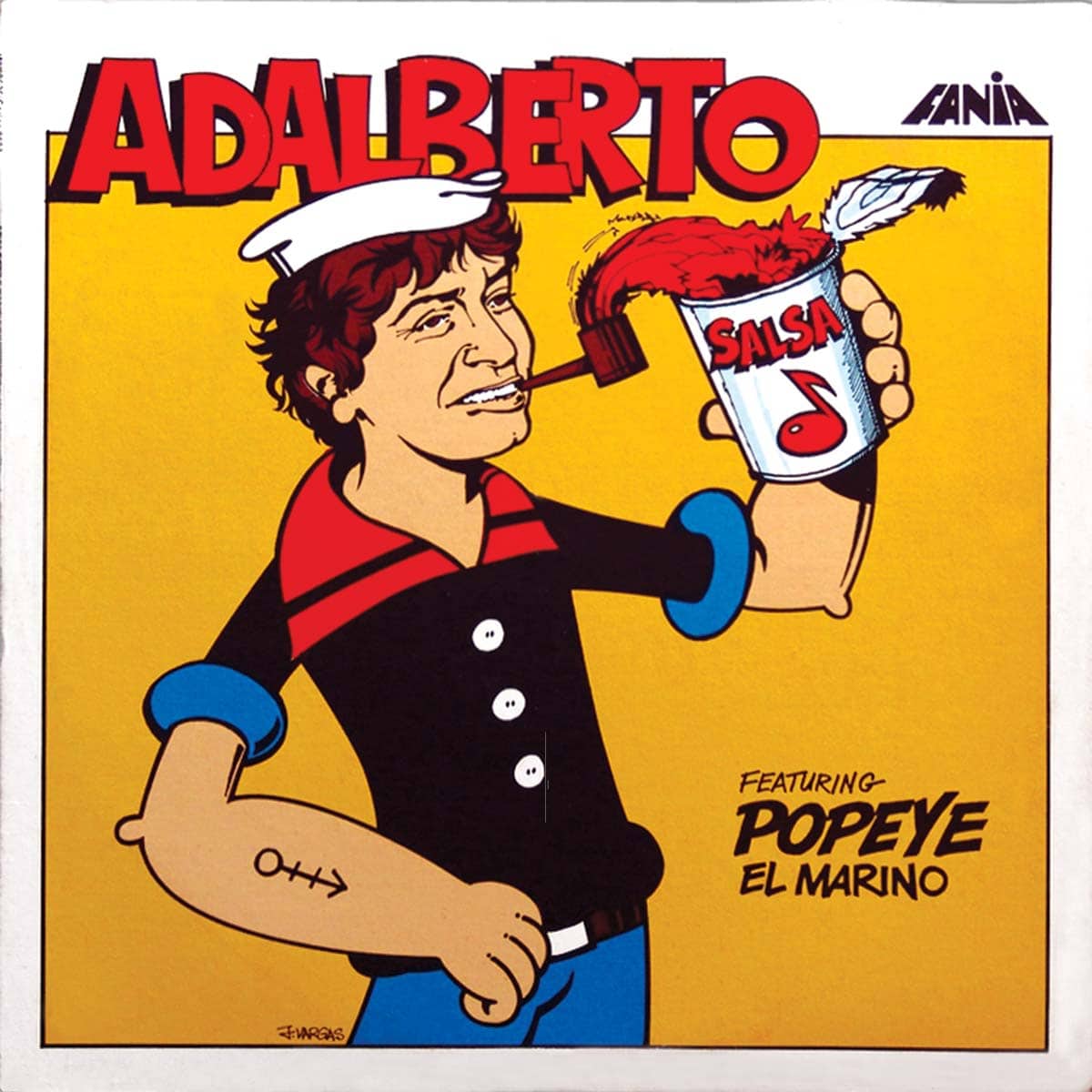 ADALBERTO FEATURING POPEYE EL MARINO
It was one of the biggest coups in the history of salsa. Vocalist Adalberto Santiago and other musicians from the Ray Barretto orchestra hopped a flight from Colombia to New York to tell the unforgettable Conguero Indestructible that they were leaving his band to form their own Típica 73. After the experimental jazz album The Other Road, Barretto got over his colleagues' departure and went on to release the LP Indestructible. Adalberto, timbal player Orestes Vilató, bongo player Johnny Rodríguez Jr., and the others triumphed in Típica 73. But the commotion cost Adalberto his position as lead vocalist with the Fania All Stars – an honor he had shared at the Cheetah with Héctor Lavoe, Ismael Mirando, Santos Colón, Pete Conde Rodríguez, Bobby Cruz, and Cheo Feliciano. Known as El Guapachoso, Adalberto recorded three albums with Típica 73 that were released by Inca Records.
Later, alongside Vilató and trumpet player Roberto Rodríguez, he continued recording with Coutique and Los Kimbos. When Los Kimbos broke up, Jerry Masucci and Víctor Gallo signed Adalberto on as a soloist. Together, they recorded the LP Adalberto in 1977, produced by Adalberto's old boss, and friend, Ray Barretto. This wasn't Adalberto's first recording as a soloist; in the late 60s he recorded the bolero album Cosas del alma with the West Side label. Adalberto rejoined the Fania All Stars with lead vocals by Dinamita on the LP Commitment. And as expected, he collaborated with Barretto on the extended album Rican-Struction in 1979. The same year, Fania Records released Adalberto's second album with the label: "Featuring Popeye El Marino". Adalberto produced this extraordinary album with Louie Ramírez, and recruited timbal player Orestes Vilató, arranger Joe Mannozzi, and bongo player Johnny Rodríguez Jr., among other friends from his days with Ray Barretto and Típica 73. Once again, the label turned to an ingenious marketing strategy inspired by television. Willie Colón, Héctor Lavoe, and Yomo Toro were already known as The Good, The Bad, and The Ugly. Barretto was as indestructible as Superman.
Now, Adalberto was the sailor man who gathered his strength from spinach. The album –whose promotion was unfortunately counteracted by the success of Rican-Struction, which Adalberto recorded with Barretto– boasts a self-titled track by Johnny Vega, as well a another guaguancó number penned by Adalberto titled "Ay Caray," whose lyrics expose the false nature of certain friends. This is a theme Adalberto approached 10 years earlier with Barretto on Hipocresía y Falsedad. This Emúsica re-release showcases Adalberto's versatility when interpreting the merengue "Mujer Celosa." the bomba "Puerto Rico Brindo Por Ti" and together with Francisco Bastar Kako on his conga playing and the bolero numbers "Te Lo Dije Y Mío Es Tu Amor," "Mucho Corazón Y Enferma Del Alma," and "Fuego De Amor." Although the radio stations never played it, his version of Marcelino Guerra's son montuno "La Tierra Da" was a statement on environmental protection and farming. The message is clear, and as fitting today as ever: We reap what we sow. Adalberto Santiago.
Even before he recorded with Barretto, Típica 73, and Los Kimbos, he worked with Chuito Vélez and Willie Rosario, among others. He is, without a doubt, one of the best salsa singers ever known. Ciales, a little town in central Puerto Rico, has been basking in the glow of Adalberto Santiago for almost 40 years. Apart from being a versed sonero and sentimental interpreter of the bolero style, Adalberto is one of the most highly requested vocalists of the genre: so much so that he has participated in more than 200 recordings to date.
Credits: Orestes Vilató – Timbales John Rodríguez Jr. – Bongos Eddie Montalvo – Congas Salvador Cuevas – Bass Tony Cofresí – Trumpet Enrique Suárez (Jaruco) – Trumpet Pablo Domínguez – Trumpet Reinaldo Jorge – Trombone Adalberto Santiago – Güiro and Maracas Johnny Kenton – Güiro ("Mujer Celosa") Freddy Sanchez – Tambora ("Mujer Celosa") Kako – Quinto ("P.R. Brindo Por Ti") Héctor Zarzuela – Trumpet Chorus – Néstor Sánchez, Tito Allen, Rosa Soy, Adalberto Santiago Producers – Louie Ramírez & Adalberto Santiago Director of Recording – Louie Cruz Recorded at – La Tierra Sound Studios, N.Y.C. Engineer – Irv Greenbaum Arrangements – Joe Mannozzi ("Ay Caray," "Mucho Corazón"), Louie Ramírez ("Popeye El Marino," "La Tierra Da"), Louis Cruz ("P.R. Brindo Por Ti", "Fuego De Amor"), Carlos Lalane ("Te Lo Dije Y Mío Es Tu Amor", "Mujer Celosa"), Jorge Millet ("Enferma Del Alma") Original Album Concept and Design – Izzy Sanabria Original Cover Photography – Jimmy Araúz Original Illustration – Jorge Vargas Written by Jaime Torres-Torres