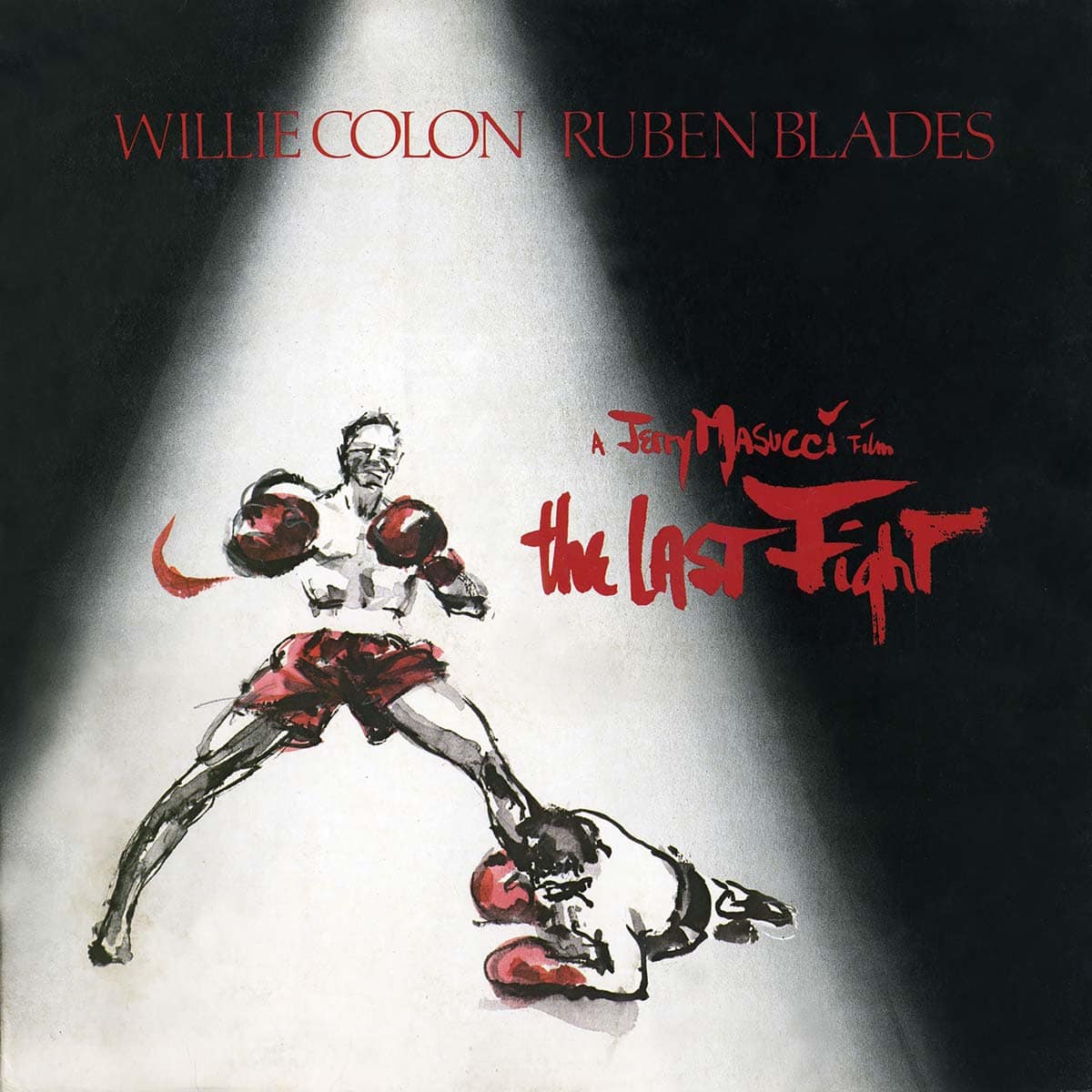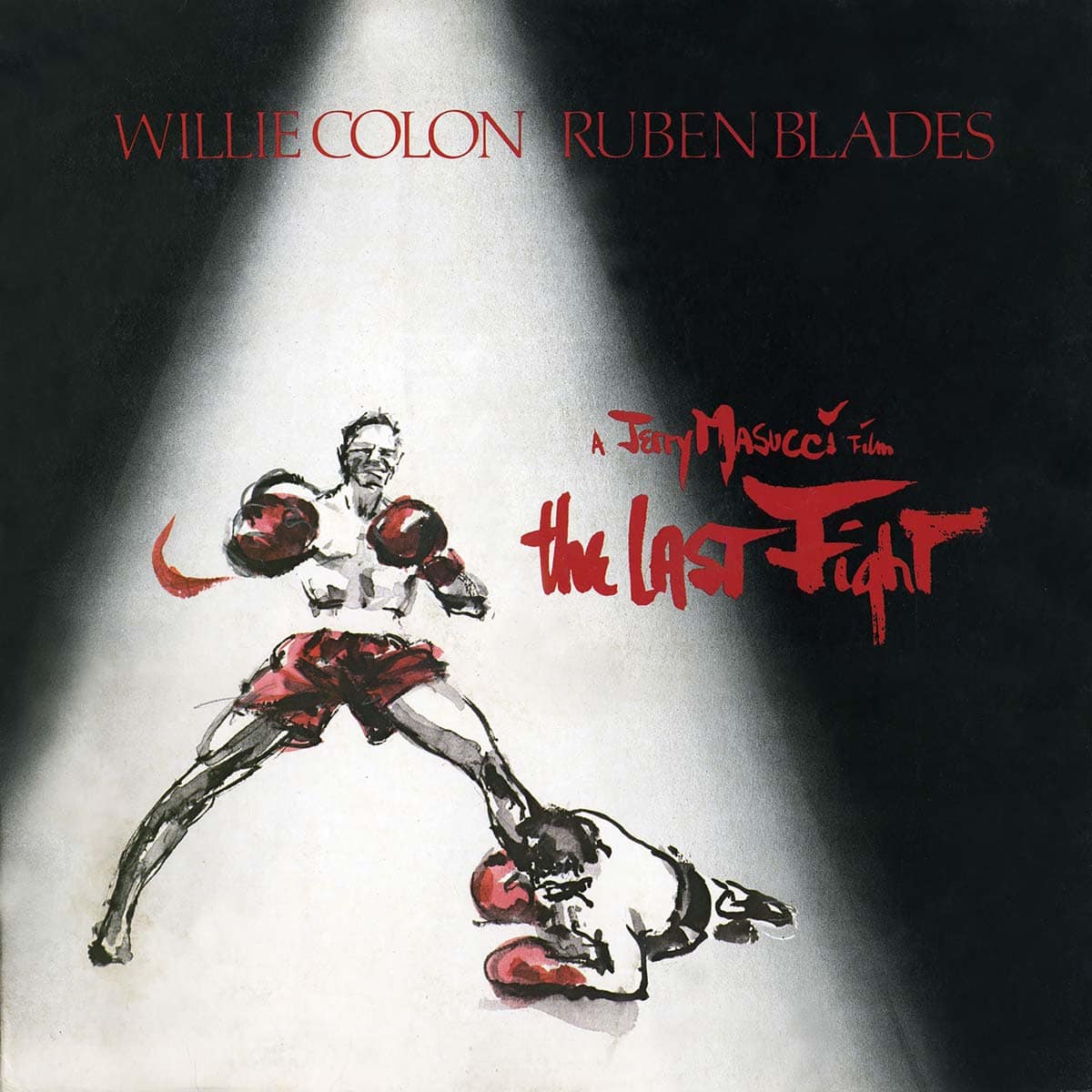 THE LAST FIGHT WILLIE COLON / RUBEN BLADES During an interview conducted years ago for the excellent Descarga.com website, Rubén Blades was asked about which of the six albums that he had recorded with Willie Colón was closer to his heart. The Panamanian singer's answer was quite eloquent: "I think all, actually, except for The Last Fight," he said. This hardly comes as a surprise.
The Last Fight is considered by many as the weakest album in the Rubén Blades discography, a hastily recorded soundtrack to the 1982 movie of the same title. Produced by Fania executive Jerry Masucci and directed by former American football star Fred Williamson, the film itself was an artistic and commercial fracas. Blades performs the lead role of Andy 'Kid' Clave (his last name is "clave"– get it?), a singer turned boxer who signs a contract with a shady promoter, performed by none other than Willie Colón. In later years, Blades would openly laugh at the notion of a singing boxer, a ridiculous conceit that was invented in order to attach a viable soundtrack album to the film. The movie remains unwatchable to this day. But the soundtrack is a different story. Just like the minor works of other salsa legends like Tito Puente, Celia Cruz or Héctor Lavoe, even a bad Rubén Blades record is a good salsa record. There is much to enjoy here, and it is hoped that this remastered CD edition will allow fans of Rubén and Willie the discovery of an album that has a warm, mature sound to it. The Last Fight begins auspiciously with "Yo Puedo Vivir Del Amor," a sprawling eight-minute salsa jam that, according to Blades, was written by an uncredited José Feliciano. This could easily be an outtake from the Maestra Vida saga, boasting the swinging piano of Joe Torres and Colón's trademark layers of trombones. Things take a turn for the worse on "Andanza," a song marred by melodramatic backup vocals and an unbearable spoken voice interlude.
The rest of the album is certainly enjoyable. Blades' self-penned "What Happened" finds him performing most of the lyrics in English. "Cimarrón" includes some nice trombone interplay, deliciously nasal coros, and Rubén's luminous performance in full sonero mode. "Venganza" is an old fashioned bolero, and "Y Tu Abuela Donde Está" includes infectious touches of Latin American humor. The fact that The Last Fight was the last chapter in the historic collaboration between Blades and Colón must have left a bitter taste in Rubén. In 1995, he graciously decided to record another album with Willie in an attempt to thank him for the trombonist's contribution to his musical career. Unfortunately, they ended up working in the same studio but during different times, entitled Tras La Tormenta, the end product had a mood of distance and coldness about it. In retrospect, The Last Fight was an inspirational point in Blades' career. Whereas he admits that his performance on that particular film was nothing to write home about, he learned that he felt comfortable in front of a camera. A talented and charismatic man, Blades would persevere, honing his acting craft and developing a serious career as a Hollywood actor.
His credits include films such as The Two Jakes and Assassination Tango. As far as the music goes, perhaps Willie and Rubén should put their considerable differences aside and return one last time to the studio. Fans can always dream of a more fitting ending to one of the most volatile and productive partnerships in the history of salsa. Credits: Prof. José "Joe" Torres – Piano "Fender Rhodes" Eddie Resto – Electric Bass Miltón Cardona – Congas, Minor Percussion Johnny Andrews – Bongos, Cowbell Jimmy Delgado – Timbales Lewis Khan – Trombone Luis López – Trombone Leopoldo Pineda – Trombone Rubén Blades – Voice Trombone Rubén Blades – Lead Singer Chorus -Miltón Cardona, Willie Colón Rubén Blades – Chorus and voices of delinquent and drunk Songs including in "The Last Fight" picture, produced by Jerry Masucci Willie Colón as Joaquin Vargas a Ganster Rubén Blades as Andy "Kid" Clave a Boxer and Singer Director – Willie Colón Producer – Willie Colón, Rubén Blades for WAC Productions, Inc. Executive Producer – Jerry Masucci Musical Arrangements – Rubén Blades, Willie Colón, Luis Cruz, Jay Chattaway Concept and Artistic Direction – Rubén Blades,Willie Colón Recording Director – Willie Colón Recorded at – Sound Works Studios, La Tierra Studios, NYC Recording Recording Engineers – Willie Colón, Jon Fausty Mixed – Willie Colón, Jon Fausty Original Cover and Back Cover Photography – Ron Levine Graphic Format Design – Louise Hilton Graphic Montage & Digital Output – Plus Art, Inc Remastered by – Miami Tape Liner Notes written by Ernesto Lechner Editor – Richie Viera